2020 HAS BEEN A VERY PARTICULAR YEAR AND TOUCHED THE PROFESSIONAL AND PERSONAL LIFE OF EVERY ONE OF US, TESTING US TOUGHLY. AT PATRIZIA VOLPATO, NOTWITHSTANDING THE DIFFICULT MOMENT, WE TRIED TO MOVE ON AND TO INCLUDE IN OUR VISION ALL OUR CLIENTS AND THEIR DESIRES.
DESIRES ACTUALLY ARE THE ENGINE OF ALL OUR CREATIVITY AND PRODUCTION PROCESS, THEY LEAD US TO ELABORATE LIGHTING IDEAS WHICH ALWAYS ARE INNOVATIVE, ORIGINAL AND CAPABLE OF SATISFYING THE DREAMS OF THE MANY CLIENTS THAT WISH TO BRING A NEW LIGHT WITHIN THEIR HOMES OR WORKING PLACES.
The new "Collections 2020" catalogue
This is why during the year the creative team at Patrizia Volpato never stopped operating and gave birth to a new catalogue, with totally new ideas so as to guide our public amongst the most recent and innovative lighting creations we have ever signed.                                                                                                                              Our Collections catalogue is the true inspiration source for the production style of our brand, as it encloses creative lighting proposals of a very high-quality standard, both for the materials used as well as for the completely original design.
The items of the new catalogue will be available in our Online Shop starting from 2021. Are you curious to get all the news about it? Keep updated by following us to know the online availability of the products.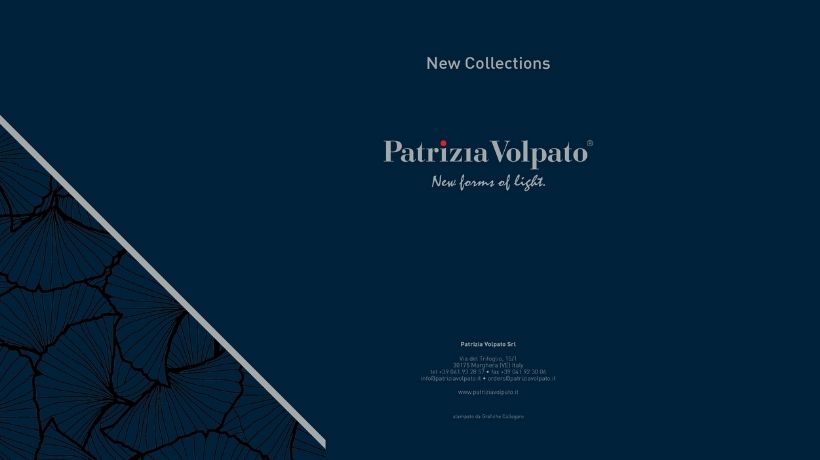 To answer your requests is our main aim
Every client that contacts us has a project that lives within their mind, sometimes it is a private space concept for their own home, other times it is an original professional environment concept for their offices. Such project, whatever it may be, needs a lighting item that other than being just functional is also the protagonist of such location.                                                                   At Patrizia Volpato we always have a primary aim: to provide for the best lighting style within your project, adapting our processes to your specific needs, both on the technical as well as on the creative side.
Lighting projects that become reality through a process made of ideas, creative solutions and accurate craftmanship.

If you can imagine it, we can make it happen.
Your desires become reality thanks to the expertise of the production team with reference to the knowledge of the materials used and of their own working processes, as well as thanks to the experience of our technical staff that designs and transforms projects into concrete items. This way we can offer different styles in our lighting collections, which distinguish each collection from one another yet always materializing the imagination of our clients.