TO BE ABLE TO COMBINE THE MOST ANTIQUE TRADITION OF GLASS ARTISTRY WITH CONTEMPORARY LIGHTING CREATIONS WHICH ALSO LOOK TOWARDS THE FUTURE, CAN REPRESENT A GREAT CHALLENGE. HERE AT PATRIZIA VOLPATO WE DECIDED TO FACE SUCH CHALLENGE AND WE MADE PRECIOUS MATERIALS BECOME OUR FOCAL POINT, REDESIGNING THEM AND GIVING THEM A NEW SHAPE, YET PRESERVING THE STRENGTH OF THEIR TRADITIONAL CHARACTERISTICS IN ALL OF OUR LIGHT CREATIONS.
The art of Venetian "conterie"
Within our collection Venezia, for example, we propose a unique working process: it refers to the typical glass beads of Murano glassmaking that tie to one another giving birth to fringes that elegantly flow from the chandeliers of this special luxurious collection.
The antique tradition of the specific craftmanship related to the "conterie" and therefore related to any type of glass bead until mid 1800, has now taken on a more precise meaning as today it indicates the processing of beads only coming from a perforated glass rod. In the island of Murano, until the end of 1800 there were many factories  that used such working processes, even though they were complex.
Today we are proud to retrieve the ancient art of Venetian "conterie" in our glass creations and decline it in modern chandeliers that still prove to have a strong bond with traditions and elegance as shown in our Venezia Collection.
Curiosities
What is the meaning of the word "conteria"? It has ancient origins, probably coming from "contigia", that is "ornament" or even from "count/ cash", referring to the exchange value the beads had acquired amongst several populations.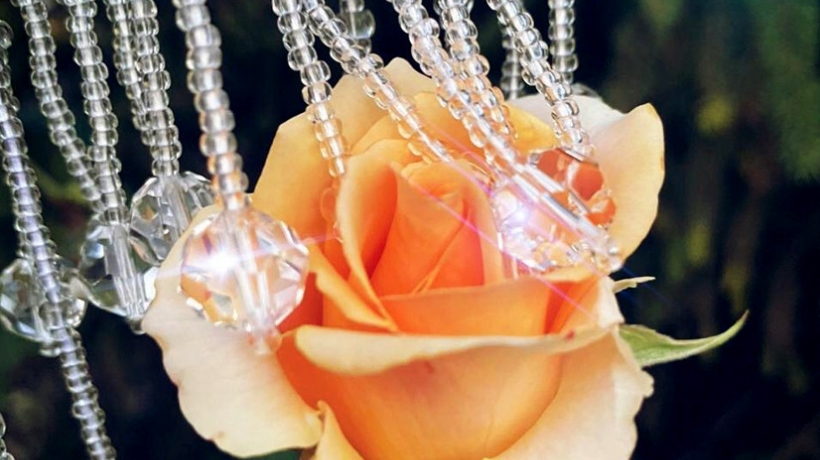 Murano glass leaves
Another typical working process referred to the historical Murano glass is the one giving birth to the well-known glass leaf: a classical decorative element of the most traditional Venetian chandeliers.
The team of Patrizia Volpato was impressed by this shape and created its own leaf, the one that characterizes our Petali collection. The Murano glass leaf decorated with grit is actually the protagonist of this precious collection, which takes inspiration for its shape and for the raw material used from the Venetian tradition, yet still showing a careful revision towards a modern design and still maintaining a timeless elegance.