When we start a project and a study that includes the lighting for a specific environment, it is fundamental to focus on the lights and shadows that will have to define that specific room. Majestic chandeliers often are the protagonists of a space, as they flood it with light. However, what actually creates the right atmosphere is the whole set of lighting items: often also the smallest lamps can become fundamental.
Table lamps
Table lamps are lighting sources that often end up being underestimated, yet actually they can be essential to complete and improve the illumination of a room. Their small size allows them to be placed in different focal points, giving depth to the surrounding space and this way they can become the protagonists: each lamp has its own soul!
Choosing the proper lamp
Dwelling
When we have to place table lamps within a domestic environment there are  plenty of options.  They can be used on our desk as a light to work or to study, or else they can be a discreet evening light, to put on when the night atmosphere invades the entire house and you don't want to disturb the other family components. It becomes very useful when you want to enjoy some relaxing moments with a book in your hands: table lamps allow us to obtain the proper light to illuminate only a small area, for example next to the couch in the living room.
Luxury hotels and boutiques
Precious locations such as luxury hotels and haute couture boutiques can offer to their guests and clients some unique emotions also by means of the right lighting. Elegant table lamps and made of precious materials such as Murano glass or crystal, help to create a relaxing and intimate atmosphere. The right table lamp placed on the table tops of a luxury restaurant or placed in the hall of an elegant hotel becomes the protagonist during a magical evening, sometimes even more than a majestic chandelier.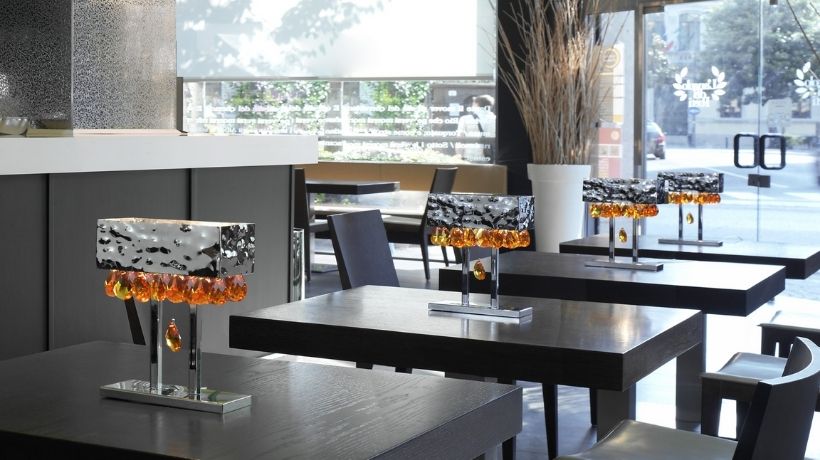 To each environment its own lamp
Thanks to the different types of diffused lighting, to the raw materials used and to the selected colours, you can create different types of atmospheres by means of these small yet important light sources.
Classical or contemporary environments
Table lamps with a shade and with dimmable light are perfect to create an elegant atmosphere, also thanks to the possibility offered by dimmable lights to define the intensity of the illumination. Precious materials such as pure crystal or Murano glass, combined with elegant and bright colours, perfectly adapt to renowned locations, as well as to both contemporary and classic design interiors of private residences, of luxury hotels and of gourmet restaurants. This is why within the Collections by Patrizia Volpato table lamps with a contemporary spirit and with precious finishes are never missing, as we can see from the collections Venezia and Girasole for example.
Modern environments
Environments that have a less classical style and that want to strike the viewer for their originality can bring their design to a higher level thanks to the use of modern table lamps. The proposals by Patrizia Volpato are many, with unusual shapes too, such as the lamps of Sfera collection, with a metal structure that has a spheric shape offering original light reflections.
Playing with colours and with another particular shape, the table lamp from Rondò collection perfectly adapts to a contemporary and refined design. It is available in several colours (from clear, to red and turquoise…) as well as different frames and it gives a sense of novelty to the surrounding environment even though it originates from ancients materials such as Murano glass. For those people instead who enjoy the many different reflections of light as well as a modern design, the table lamp of Prisma collection is the perfect item: an extremely bright multifaceted methacrylate of very high quality.
What about you: have you already chosen the perfect table lamp to furnish your spaces?